Join the March for Return and Liberation in Brussels, Belgium on Saturday, 29 October 2022. We will march at 2 pm (14h) from Lumumba Square to the European Parliament. 
Our demands include: the liberation of Palestine from the river to the sea, an end to the EU-Israel Association Agreement and the liberation of all Palestinian prisoners.
The March is the culmination of the Week for Palestinian Liberation. Events and activities will take place every day in Brussels from 24 October to 29 October.
MARCH LOGISTICS: 
We will gather at Lumumba Square (left image, below) at 2 pm (14h) on Saturday, October 29. 
After an initial rally, we will proceed from Lumumba Square to the European Parliament for the final rally. Please expect to be at the European Parliament until 4:30 – 5 pm (16h30 – 17h)
Are you bringing a bus or other large vehicle and need help or information about parking, storage and logistics? Do you want to plan a large contingent? Email us at info@returnandliberation.org or use our contact form!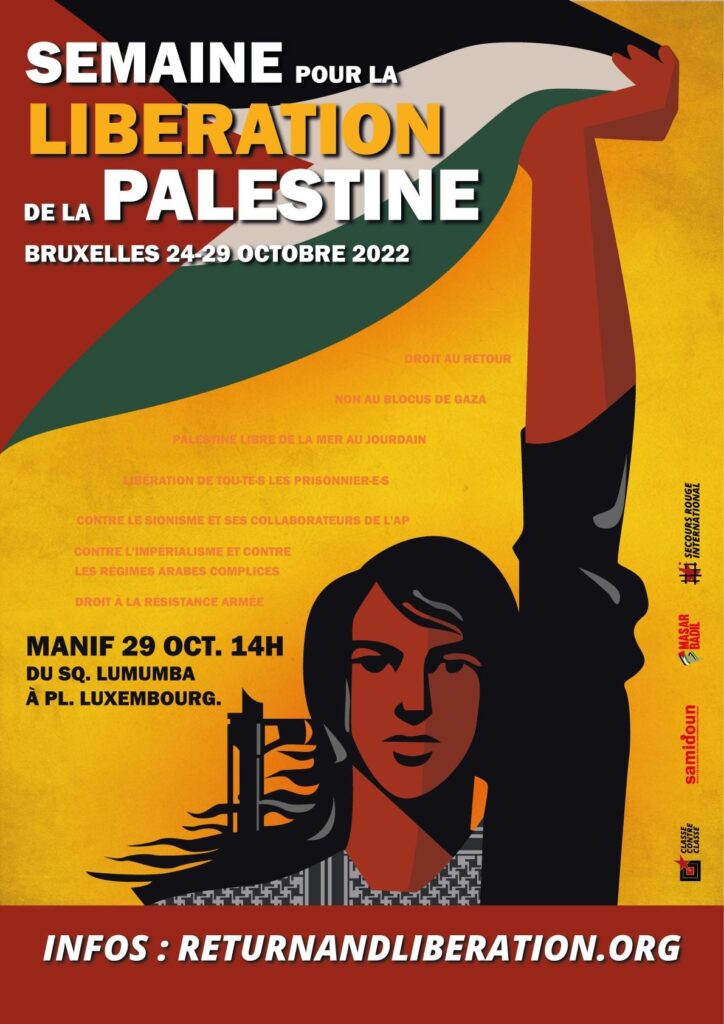 Week of Action for Palestinian Liberation
Saturday 22/10: March for the Liberation of Georges Abdallah. Lannemezan, France. For more info: https://palestinevaincra.com/2022/09/en-octobre-2022-rejoignez-le-mois-de-mobilisation-pour-la-liberation-de-georges-abdallah/
Monday 24/10: Presentation by Luk Vervaet of the anthology, Sumud: Words of resistance from Palestinian prisoners , with Ahmed Frassini, a Palestinian prisoner as a child who is currently working in a campaign to recover the bodies of Palestinian prisoners that Israel refuses to return7 pm (19h) At the Novembre bookstore, 38 rue du Fort, 1060 Brussels.
Tuesday 25/10: Presentation of the Works of Mohamed Boudia. Mohamed Boudia was a fighter for the independence of Algeria; he joined the Palestinian revolution and was assassinated by the Israeli secret services in Paris in 1975. 7 pm (19h) At the Météores bookshop, 207 rue Blaes, 1000 Brussels.
Wednesday 26/10: "Return from Palestine" evening organized by La Grue collective. Two young activists report back on their experiences in Palestine. 7 pm (19h), at  Sacco-Vanzetti, 54 chaussée de Forest, 1060 Brussels
Thursday 27/10: European Parliament forum on Palestinian refugees. 11 am at the European Parliament. REGISTRATION REQUIRED IN ADVANCE. To register, email info@returnandliberation.org
Thursday 27/10: International forum on solidarity with Palestinian prisoners organized by Samidoun Palestinian Prisoner Solidarity Network.  7 pm (19h) At the Salle Aurore, rue du Midi 162,  1000 Brussels.
Friday 28/10: Secours Rouge International conference on the history of the links between the revolutionary movements of Palestine, Europe, the Arab region and elsewhere. More info: https://rhi-sri.org/palestine-internationalism-and-anti-imperialism 7 pm (19h) At DK, 70B rue du Danemark, 1060 Brussels.
Saturday, 29/10: Palestinian Women's Meeting (before the march) 10 am to 1 pm, Sacco-Vanzetti, 54 chaussée de Forest, 1060 Brussels
Saturday 29/10: March for return and liberation.  Departure 2 p.m. Square Lumumba, Porte de Namur, 1050 Brussels; Marching to the European Parliament. 
Sunday 30/10: Open Palestinian Youth Forum. Toward a revolutionary youth and student movement. 12 pm, At Sacco-Vanzetti,  54 chaussée de Forest, 1060 Brussels
Sunday 30/10: The Revolutionary Alternative in the Thought of Fathi Shiqaqi. Lecture in Arabic by Palestinian writer Khaled Barakat. 6 pm (18h) At DK, 70B rue du Danemark, 1060 Brussels.
Wednesday 26/10 through Sunday 30/10: Exhibition of posters by Marc Rudin. The Swiss graphic designer Marc Rudin joined the Palestinian revolution in Lebanon and then in Syria., producing dozens of posters for the Popular Front for the Liberation of Palestine.  Exhibition organized by the Revolutionäre Jugend Zürich. 2 pm to 6:30 pm, Steki, 4&6 rue Gustave Defnet, 1060 Brussels
End the blockade of Gaza! Join the EuroPalestine contingent!
Our comrades at CAPJPO-EuroPalestine in France are organizing a special contingent in the October 29 rally to end the blockade of Gaza and hold the European Parliament accountable. 
They are organizing bus and communal transport from France (including Paris and elsewhere!) To join the contingent or get your seat on the bus, email info@europalestine.com or call+33 (0)7 56 88 65 41.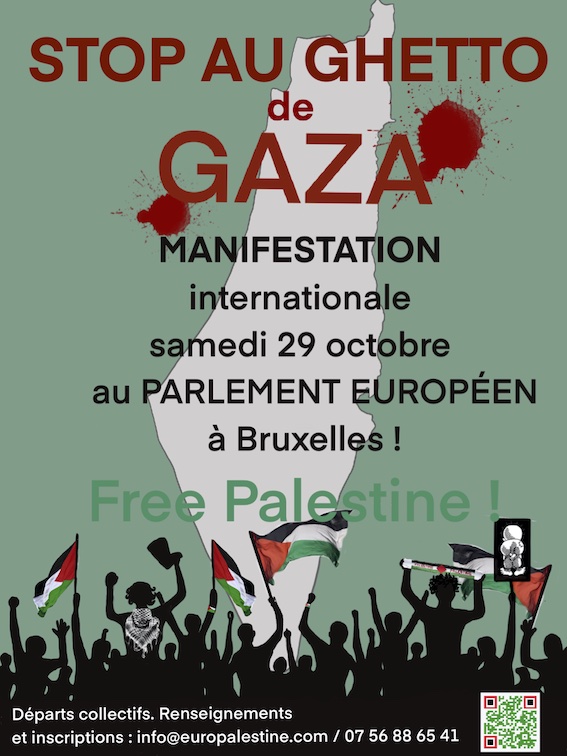 Join the March for Return and Liberation!
We invite you to join us in Brussels for the March for Return and Liberation! Let's make this march as large as possible to make clear that we stand with the Palestinian people and their Resistance, for liberation from the river to the sea. 
We also encourage you to join us one week before, in Lannemezan, France, for the march for freedom for Georges Abdallah, the Lebanese Arab Communist struggler for Palestine imprisoned in France for the past 38 years. To find out more about the struggle to free Georges, visit the Collectif Palestine Vaincra and Samidoun. 
The march for Georges will take place on Saturday, 22 October (one week prior to the Brussels march!) at 2 pm from the Lannemezan train station to the prison where Georges is held.